This section contains the data on fishing. All fishing locations are marked with a fish icon on the map, unlike the previous two games, the fishing mini-game has been completely redesigned with a different system. In this version of the game, the fish size is based on the timing of the starting gauge. You will also need to keep the fish line in check and not break.
You are watching: Trails of cold steel 3 fishing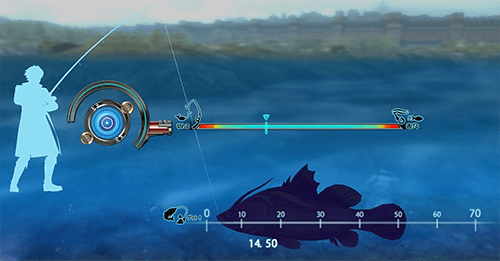 A new feature added for this version of Cold Steel is the ability to add custom parts to your fishing rod, to make fishing more reliable and easier. Fishing gear can be purchased from the Leeves General Store and from Freddy during a field exercise.
If you manage to catch all 25 fishes and upgrade the rod to the highest level, you will also get the Lake Lord trophy.
Contents
Kasagin
Obtained ItemLocationExchange Value

Mirage Sepith x6Mirage Sepith x12Mirage Sepith x18
Leeves River (North)r North Sutherland Highway 2South Sutherland Highway 1
Beast Flesh
Skygill
Obtained ItemLocationExchange Value

Water Sepith x6Water Sepith x12Water Sepith x18
Leeves River (South)Old Agria RoadSouth Sutherland Highway 1Isthmia Great ForestWest Ostia Highway
Chitinous Shell
Cangiru
Obtained ItemLocationExchange Value

Time Sepith x6Time Sepith x12Time Sepith x18
Leeves River (North) Isthmia Great ForestSouth Sutherland Highway 1Parm RoadParmHamel Road 1
Globby Fat
Snow Crab
Obtained ItemLocationExchange Value

U-MaterialU-Material x2U-Material x3
Leeves River (North) South Sutherland Highway 1Isthmia Great ForestSouth Sutherland Highway 2ParmOld Agria Road
Hearty Powder
Carp
Obtained ItemLocationExchange Value

Tear BalmTeara BalmVitality Droplet
Isthmia Great ForestLeeves River (North)Parm RoadParmOld Agria RoadSouth Sutherland Highway 1South Sutherland Highway 2Hamel Road 1
Hearty Powder